I'm not a rabid sci-fi fan, nor did I watch the original version of the Lost in Space show before. In fact, I had no idea Netflix had even put out a remake of this once popular story.
Even more surprising, I discovered the tv show is based on a reboot of the book Swiss Family Robinson – a movie I became captivated with as a youth.
Needless to say, when I found myself laid up at home, I knew exactly what show I wanted to binge watch first.
Right out of the gate, you have to hand it to Netflix – they really do put the production into their TV Shows. Granted, they are limited runs, and there is a great deal of lag time between seasons (I'm talking years here), but when they pull the trigger on a series, they really do go all out.
The story takes place after a mishap on a deep space transport ship, though, we at first don't know exactly what happened.
What we are certain of, is the Robinson family had escaped in a pod ship, and landed on an icy planet, where their ship is quickly swallowed up in a frozen pool.
The show immediately impresses with grand vistas and spectacular filming. It is a pristine and terribly harsh planet this family has found themselves on, and it takes quick thinking to make it through the immediate dangers they find themselves in.
Then the son, Will Robinson, is separated from his family and lands at the bottom of the ice, on the valley floor, where he meets and inadvertently befriends an alien robot, who gives us the familiar phrase,
"Danger, Will Robinson. Danger."
But, if I'm not mistaken, this robot is just a little more serious than it's predecessor. And a bit more dangerous, too.
Despite this boy w/ robot relationship developing, this newest version of Lost in Space has a lot more going on.
A break out performance I have to mention is from Mina Sundwall, who plays Penny – Will's sister.
Mina playing Penny on Lost in Space. Best performance on the show, hands down.
One character I do not care for – or, actress more specifically – is Parker Posey playing Dr. Smith.
Parker Posey as Dr. Smith. Need I say more?
She has been in so many movies and tv shows, but I have disliked her in every one. From Coneheads to You've Got Mail to Parks and Recreation. Please, God, just get her off the stage!
The cast overall did a great job with this new reboot. After binge watching all ten episodes in a matter of two days, I'm not really sure where they're going to go with the story.
I won't spoil it here for you in case you haven't seen it yet.
But, by the end of Season 1, I don't really understand how it will be like the previous version or the book the previous version was based on.
That won't be the first time Hollywood has gone in a different direction, though. Won't be the last.
But, I do want to level some sound criticism against Netflix for a moment. With this show coming out in 2018, they are now saying there will be a Season 2, but no guess as to when. If it's like anything else Netflix does, it will most likely not be dropped until 2020 or after.
How long did we wait for Daredevil to be followed up?
And, I've been burned by Netflix in the past. I watched Girl Boss one weekend awhile back, starting one of my favorite actresses, Britt Robertson. Was I surprised and disappointed when Netflix canceled the show after one measly season.
I often don't watch a new show now until there are at least 3 seasons behind it.
Check out Season 1 on Netflix.
All in, Lost in Space is a great show if you're looking for something interesting, with great special effects and has a followup coming (at some point).
It has an outstanding cast, great story, and they seem to be going in a new and different direction, so it will be interesting to see where the Robinson family ends up.
Netflix, please don't make us wait three years for Season 2, okay?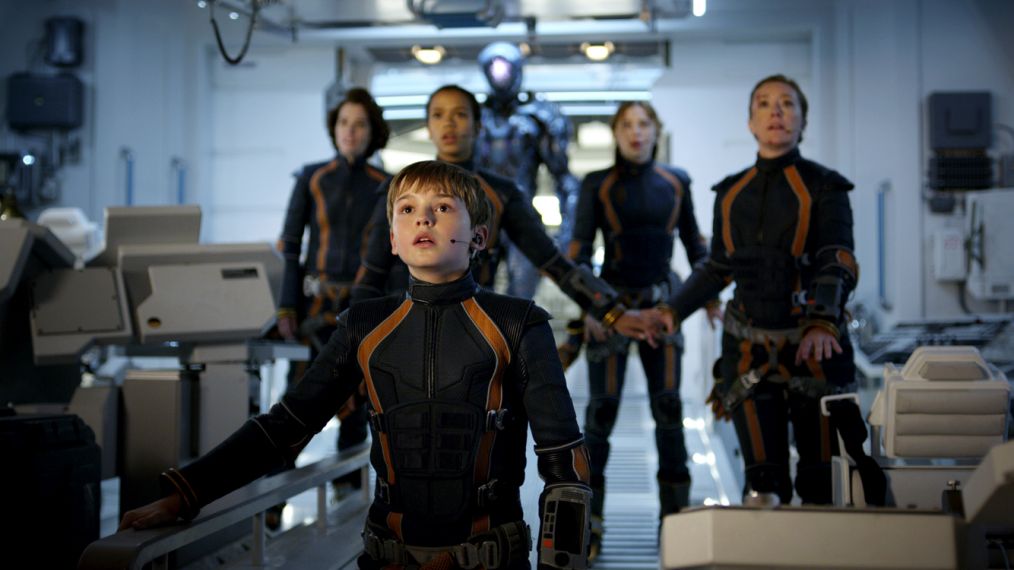 The cast of Lost in Space.
If you like sci-fi stories like Lost in Space as much as I do, check out my latest trilogy series, The Aurora Series.
Set in the Alaskan wilderness, a group of strangers find themselves in a life or death situation, in which there may be no escape. They must fight against the natural world around them, as it itself begins to unravel. All the while, they each stand to lose everything if they don't find a way to work together.
Before this rag-tag group realizes it, they are plunged into a spiraling vortex of death, and must fight with everything they have just to stay alive.
Immerse yourself in this spine tingling sci-fi suspense trilogy – you will not get enough of this new and incredible series. Get the Omnibus now and Save over 50%!!
Have you watched Lost in Space yet? What did you think? Tell me all about it in the comments below.
Also, if you like this post, then please subscribe. You can also support my work on Patreon by clicking here.
But be forewarned. Do so and you'll never see the world the same again.