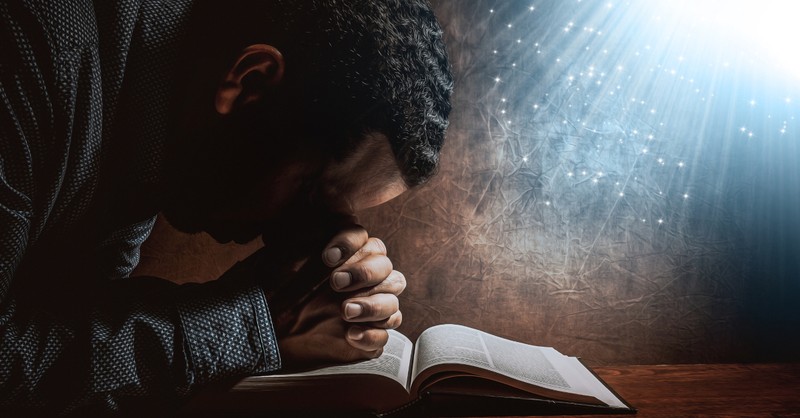 Over the last few weeks I've been wrestling with a lot of doubt. Doubts about what God will ultimately do with me and the remainder of my life (however long that is), what he's actually doing (or if I'm just deluding myself), what he could do vs. what I think he will or will not do based on my unworthiness, are all forefront in my mind, cycling through on perpetual repeat.
When I spend time talking with God my faith is bolstered, I feel that familiar confidence surging through me, as if I can't help but believe in what (what I think) he's given me to do in preparation for what he plans to do in the near future.
Yet, without fail, throughout the day my fear, my anxiety, they sneak in without notice until they have a stranglehold on the things God has whispered to me, the things he says he is going to do, is doing. It all traces back to doubt. Disbelief. And that is rooted deeply in self-loathing, self-recrimination about so many things in my life, in my past, etc. So, tonight, I thought I would spend some time studying doubt, see if the Bible had something to say on the matter. Something that might help a stubborn mule such as myself. To my surprise, the Bible is quite clear, though we tend to not believe him. Ironic, I think.
So, let's jump in and discuss doubt, doubting God's abilities, doubting God's willingness, doubting our own worth, and having deep-seated down when we feel like God has let us down in the past. How can we trust him now?
The Passages on Doubt
There are actually only a handful of passages that deal with doubt in any meaningful way. I list then below and provide my thoughts as well.
Matthew 21:21 – "So Jesus answered and said to them, "Assuredly, I say to you, if you have faith and do not doubt, you will not only do what was done to the fig tree, but also if you say to this mountain, 'Be removed and be cast into the sea,' it will be done."
This passage as well as Mark 11:23 took me by surprise. For going on 3 months now, I've been wrestling with something that I am convinced God has given me, a task to do in preparation for an upcoming life transition. I've leaned into this call to prepare, embracing the new change, believing it will come to pass because God is a good God and he gives good gifts to his children (Matt 7:11). Too often, though, I find myself doubting what I think God has said to me. What he has given me as a conviction. That, maybe somehow, he is being deceptive, saying he is going to do one thing but really intending to do the other. But, then again, I have to continually remind myself, what has God actually said (what is it I think he has said to me)? He has told me to prepare for something that will occur in the future. But, there is not a single bit of evidence that points to that future being realized. In fact, I can make a long, long list of reasons why it's not only improbable that this will actually happen, but if it did, it would be nothing short of a modern miracle. Literally. There are so many challenges and roadblocks in the way of God accomplishing this task, I simply cannot fathom, cannot comprehend a path in which God could bring this about. Not that he couldn't. More so, that he wouldn't. Not for me. But this passage seems to indicate that it is belief that brings about whatever we ask.
Mark 11:23 – "For assuredly, I say to you, whoever says to this mountain, 'Be removed and be cast into the sea,' and does not doubt in his heart, but believes that those things he says will be done, he will have whatever he says."
There is no exceptions here in what Jesus says. You need to speak it, then believe it in your heart without doubt that what you say will come to pass, then that will, indeed, occur. How does one argue against this? God has said he will not give his children a snake if they ask for a fish. He is a good God. He gives good gifts (Matt 7:11). But I never really took seriously the certainty in which we are told to approach God with. The utter confidence we are to have in faith.
Romans 14:23 – "But he who doubts is condemned if he eats, because he does not eat from faith; for whatever is not from faith is sin."
Everything to God, it seems, centers around faith. Unconditional faith. It doesn't seem to matter what we do, as long as we do it in and with faith (of course, I do not mean to sin). A clean conscience. Out of pure intention. Of course, James sets us straight about the boundaries in which we ask for things. "You ask and do not receive, because you ask amiss, that you may spend it on your pleasures" (James 4:3). But faith is still the starting point for everything we do, everything we ask God for.
James 1:6 – "But let him ask in faith, with no doubting, for he who doubts is like a wave of the sea driven and tossed by the wind. For let not that man suppose that he will receive anything from the Lord; he is a double-minded man, unstable in all his ways."
The last passage I wanted to mention is the hardest one for me. When I looked up doubt the other day and read this passage the bottom dropped out of my heart. I couldn't believe it. James was talking to me. And harshly. After all, what chance do I have if there is no place for doubting in my prayers? I doubt everything. I doubt if God is really communicating with me. I often doubt if he hears me at all. I doubt if what I'm asking for is even the right thing, or if I'm going to regret it if he actually gives me what I ask for. I often doubt my own salvation, doubt my decisions, doubt my mistakes, and doubt my successes. Yet, James seems pretty adamant. I am to ask in faith and there is to be no doubting in what I ask for.
The Doubts I Struggle With
Today, as I came back to work on this post, I started to wonder about this whole concept of doubt. If there was something I needed or wanted in life, and I went to God in prayer over it, certainly I would need to ask without doubt. I am to trust him. I am to have confidence in my faith toward him.
But, this thing I pray for now, it seems so different than everything else I've prayed for in the past. It also seems so very much impossible. About three months ago, God convicted me of something. It's something he occasionally will do with me as I'm living my life. From out of nowhere he will just give me something – a burden, a clear objective, an understanding. It's as if the clouds part from my eyes and I can see. It is as if someone somewhere turned on a light and I realize again how dark it's been, how much I've been groping in the dark, even when I thought I was doing quite well. Yet, this conviction is both a declaration and a call, a task. He's told me to prepare for something in the future, but that's all. No real elaboration. No context. Just get yourself ready. So, I lean into it. But, I mistakenly begin to think that, in order to receive what he has declared he will bring to me at some point in the future, I need to prepare correctly, or be worthy enough in my preparation that I would receive that which he has declared (it was not presented as a promise as much as a matter of fact, he stated it clearly, that I should prepare for this as if it has already been established and come to pass). But now I don't think this is the case, that the quality of my preparation will dictate the viability of the object of that conviction. Its almost as if he was warning me ahead of time that this is going to happen. Get ready. Prepare yourself. This is inevitable.
Yet, I doubt.
I doubt if he really said this to me, or if I somehow have deluded myself into thinking it. I doubt that it's even feasible, given the limitations against it. There are medical issues that make it a challenge. There are social issues, practical issues, cultural issues – all are standing in the way of such a thing being even remotely possible.
Yes, I realize all things are possible with God. But I am not God and he has given me next to nothing in evidence to support such a claim. But then I tell myself that God doesn't need to justify himself or convince me or explain his actions. But I wonder, given that this was not actually something I desired for myself just three months ago, when I pray, is it wrong to pray with doubt? I'm I, as James states, "like a wave of the sea driven and tossed by the wind" because I cannot conceive of any feasible way in which something like this could come about? As I've said, if God did do this it would be a modern miracle. And not the kind of miracle that is common place, either. Not like childbirth or winning the lottery (things that actually happen quite regularly). This would be something that God would receive all the glory for. Not because I would give him the glory, but because there would be no other explanation other than God did this.
Likewise, along with this conviction to prepare, God has also given me a heart for this thing to occur. I abruptly now desire it more than anything else. My plans that I previously had have gone by the wayside. The things I had hoped I'd be doing by now have been washed away and replaced with something I actually never wanted again in my life. Yet, now he has reignited my desire for it. Now I'm daily wrestling with the reality that I quite possibly want something that will never come to pass and I will be stuck in this life with these convictions that will never be fulfilled.
I know in my head that this is exactly what James is talking about: a double-minded man, unstable in all his ways. Because it is true. This entire situation has made me unstable. At work. In my spiritual life. In my personal aspirations. It has interrupted what has been a genuine, 13 year peace, spiritually, emotionally, and financially. These things that this conviction claims is coming to pass, it is not something I've wanted in those last 13 years. Yet, now I do, because God has given me the desire to want it. He has reawakened in me a long dead hope that I would one day have such a thing. And, yet, I still can't seem to bring myself to believe that he's telling the truth.
And I have no reason to doubt him. He has already provided for me. He has always protected me. From myself. From others. From wolves that were at my door ready to devourer me. Even in my darkest moments, for a year or longer, as I wrestled with the reality of my divorce, of my wife's betrayal, I knew God was there, could feel him there, keeping me, protecting my heart and my mind in Christ Jesus.
And yet, still today, that doubt, it remains.
How to Pray without Doubting
I know the answer is to believe. Not necessarily believe that this is going to come to pass (but, yes, to actually believe and know it will come to pass). Or how it might come to pass. Or take it upon myself and try under my own efforts to bring it to pass or, "help God along" since it's going to be such a difficult endeavor to begin with.
No. I need to believe that God is who he says he is, that he does not deceive his children, that, in fact, "But as it is written: "Eye has not seen, nor ear heard, Nor have entered into the heart of man The things which God has prepared for those who love Him" (1 Co 2:9). I don't have to be able to "conceive" of it for it to occur. I believe that God has convicted me of this. He didn't say how he would bring it about, how he would enlist others to agree, or how he would resolve all the limitations and challenges that stand in the way.
Those are all God's issues. Just like when God told Abraham to sacrifice Isaac. Abraham knew that God had promised to make him the "father of many nations" through his seed, Isaac. Yet, Abraham obeyed God in everything leading up to the murder of his own son, his only child he had left. He knew, he believed, no matter what happened (even if it meant that he would sacrifice Isaac and God resurrected him), it was his responsibility to obey, but the rest was up to God. I need to embrace the very same resolution.
No matter what occurs, I need to obey God. Regardless if I believe it is possible or not. Regardless if I think I'm worthy of it or not. Regardless if I think I'm going to be able to make the necessary changes in preparation or not. None of these things matter. Even if, in the end, God doesn't bring about that which he has instructed me to prepare for, I need to have faith that God will then make things right between us. He will in some way show me how all this was necessary. How it was actually the perfect process by which I needed to grow, to change. And I need to believe without doubt that God will, indeed, make it right again. Just as he did for Abraham, with holding the blade at the last minute. Just as he did for Job in the end, returning double of everything that had been taken from him.
To battle my flesh (which is a constant, daily, brutal battle), I need to do as Paul stated, "take every thought captive to the obedience of christ" (2 Co 10:5).
I likewise need to remain steadfast, or as Paul puts it, "continue earnestly in prayer, being vigilant in it with thanksgiving" (Col 4:2), since James, despite his criticism of my doubts, confirms, "the active, fervent prayer of a righteous man availeth much" (James 5:16).
Praying For Forgiveness
I think simultaneously praying both for the thing we are asking for, and concerning our struggle with doubts is also an important remedy. The father of the boy who had a demon was told by Jesus, "If you can believe, all things are possible to him who believes" (Mark 9:23), but the man's response was, "Lord, I believe; help me with my disbelief!"
Jesus healed his son, regardless of the father's doubt. So I think there is precedent in praying with doubt if one seek's Christ's help with that doubt at the same time.
It is important to remember that we are human, we are encased in fallen flesh. We are not immortal beings with minds that are operating as they were intended, with faculties and a heart (our souls) that is free from the burden of sin. We need to give ourselves space. We need to forgive ourselves if there is any chance that we can overcome that which has a strangle hold on us. Jesus said, "My yoke is easy, my burden is light" (Matt 11:30). Making the decision to embrace him was the easiest, but actually then doing so was the hardest thing I've ever done.
Yet, Jesus is merciful. He is abundant with grace, and loving and caring and the greatest individual I've ever known. I am so very thankful, even in my doubt, that he has chosen to be my savior and my King.
Conclusion
In the end, I think there is not much else to do but to continue to struggle with the doubt, trace it back to its roots. I know in doing so I discovered that my issue was not necessarily rooted in the impossibility of the thing he has declared I should prepare myself for but in the fact that I've felt wounded for years, believing that God left me to suffer in a similar situation before. He could have warned me about particular people. I had prayed earnestly for his guidance and thought I had been reassured that this was what I was supposed to do. But later, I discovered people had been dishonest, people had lied, only telling me what they thought I wanted to hear. I've carried that grudge against God for 13 years, and only now realized I was even carrying it to begin with.
It is often so difficult to learn from God, to be guided by the Holy Spirit in this life. Not because they are unclear, or necessarily so enigmatic, but because we are so stubborn, hard headed, prone to futility, and too often jump to the wrong conclusions about God, about ourselves, or about other people.
I for one, though, have reasserted my efforts, will pray wholeheartedly going forward in full faith, believing completely that whatever I pray for God will bring about for my ultimate good. I pray the same for you in this time of struggle of ours, as we wrestle with this thing we call life.
Until my next post, or until the rapture saves us from this hell that is earth and we all meet our Messiah in the air, and to then be with him forevermore….
---
Please consider supporting my writing, my unschooled studies, and my hermitic lifestyle by purchasing one or more of my books. I'm not supported by academia or have a lucrative corporate job – I'm just a mystical modern-day hermit trying to live out the life I believe God has called me to. So, any support you choose to provide is GREATLY appreciated.
Excerpt from In the Meadow:
---
A second later, the engine roared to life, and Dawn glanced back, one last time, at the trailer she'd grown up in.
The empty yard.
The trail she'd blazed through the blackberries.
That gaunt looking trailer.
Everything she saw now looked so dirty and run down, almost a shambles.
It was like a dream.
Paul circled wide, then threw the truck in reverse and backed up. As he braked and put it back into drive, Dawn could see Harold's place a few slips down.
Paul gave the truck some gas.
As they went by, she could see Harold standing outside, near his front door, motionless, watching them.
She didn't mention the earlier conversation to Paul.
Why would she?
He was just a creepy ass guy, and one of the handful of things she didn't have to deal with anymore.
They drove out the front gate of the trailer park, down the side street to the corner, Paul stopping for a moment as he waited on the traffic to clear.
He took her hand and smiled at her, then pulled out onto the highway, heading west.
They drove past the Ray's Grocery Store, past the gas station, where Bart was out front, talking excitedly to the Desmond boy.
Paul kissed her hand and she smiled, laying her head back against the headrest.
There was nothing else standing in her way now.
As Dawn began to relax, she watched as her old life quickly dissipate into vapor in their wake.
For the first time in her life, she was leaving Oakridge. She was moving to an entirely different state, a new home, with the man of her dreams.
She'd never even been out of Oregon before.
"Now or never," Paul said, as they drove past the trailhead sign, on the right.
Dawn tightened her grip on his hand.
She'd finally gotten her wish.
She was leaving Oakridge.
---
Buy my book In the Meadow to find out what Dawn will do as her perfect fairytale life begins to unravel. Are the girls calling out from the banks of the Skagit River trying to help her? Do they want to hurt her? What secrets will she find?
Click here and grab your copy today! Get the sequel, Returning the Meadow and keep the story going even longer!
But, trust me when I say, this is going to be a roller coaster of a ride. People are dying all around her, and you have no idea what evil lurks in the meadow! Get started in this thriller story today and find out why they're warning her…calling out to her….trying to tell her…to RUN!
---