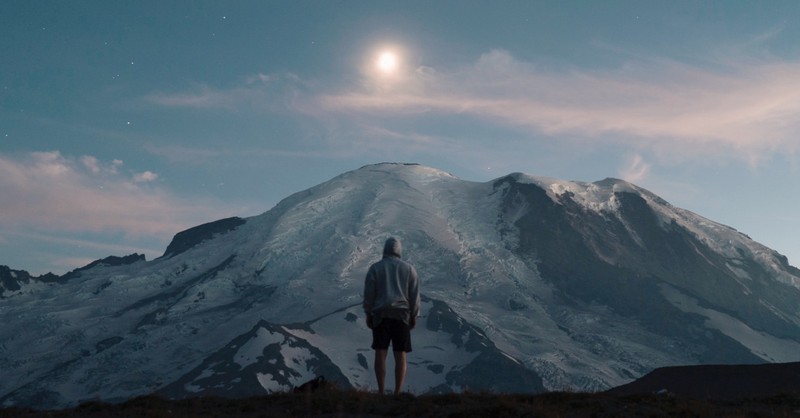 One thing I know from personal experience is God has a very peculiar way of reaching each of us. Sometimes its through other people. Sometimes it's through being in and around the natural world and all that he created for us to enjoy and learn from and discover. Still, other times, God will literally – supernaturally – reach out and touch us. Individually. Personally. Even if I can say, intimately. And that touch of God can have rippling affects throughout the rest of our life.
This last approach is often how God reveals himself to me. Maybe it's out of my own stubbornness (in that there is no other way he can get through to me), or maybe it's because he created me in such a way that he knows what I will respond to and anticipates what I need before I even know I need it.
God's funny that way.
As I'm approaching a 2nd video on my newly "launched" Youtube channel (an experiment more than anything else), the topic has come up about prayer and about the promises of God. What we're supposed to do with these statements God has made in his Word. Are we supposed to ignore them (that's what most people do, even most Christians)? Are we supposed to capitalize on them and use them as a strong arm to force God into submission (this is what the word-faith movement claims as their right)? I would argue it's neither of these, but so much more.
So, let's jump into and explore prayer, especially when I find myself in a season in my life where all I'm doing is praying and talking with God about everything….
How Not to Pray
God's pretty clear in the Scripture about how not to pray. Matthew 6:7 says "when you pray, do not use vain repetitions as the heathen do. For they think that they will be heard for their many words. Therefore do not be like them. For your Father knows the things you have need of before you ask Him." James 4:3 says, "you do not have because you do not ask. You ask and do not receive, because you ask amiss, that you may spend it on your pleasures." In 1:5-8 he states, "let him ask in faith, with no doubting, for he who doubts is like a wave of the sea driven and tossed by the wind. For let not that man suppose that he will receive anything from the Lord; he is a double-minded man, unstable in all his ways." After all, "whatever is not from faith is sin" (Romans 14:23).
The Roadmap to Prayer
In addition to how we should not pray, Jesus was pretty clear about how we should pray, what we should pray for, and also what he would do if we prayed.
He lays out a blueprint in Matthew 6:9-13 known as the Lord's Prayer. This, of course, is not a script to be repeated verbatim (though many do this often in error), but is a model of how we should pray, and how we should outline the priorities by which we should pray. But, even before this outline, he stipulates an important – an essential – element of our praying that is woefully overlooked, especially in the modern, evangelical expression of Christianity (that has more to do with capitalistic American nationalist subculture than it does with the Bible or Christ).
"But you, when you pray, go into your room, and when you have shut your door, pray to your Father who is in the secret place; and your Father who sees in secret will reward you openly." (Matt 6:6).
This means at least the bulk (if not the entirety) of our prayers – the majority should be done when no one else is around. They should be out of eye sight and earshot of others. Don't even announce you're going to go off and pray. Prayers are to be worked into our daily lives, they are to be prioritized. But the greatest reality about communication with God is it can be done any time, anywhere, and you never need to speak a single word out loud – ever!
Daniel is often used as an example from the Bible of how we should make a habit of praying every day. "Now when Daniel knew that the writing was signed, he went home. And in his upper room, with his windows open toward Jerusalem, he knelt down on his knees three times that day, and prayed and gave thanks before his God, as was his custom since early days" (Daniel 6:10).
Notice, Daniel went home and went to "his upper room." Psalm 55:17 reiterates Daniel's habit, "Evening and morning and at noon I will pray, and cry aloud, and He shall hear my voice." Psalm 86:3 states, "Be merciful to me, O Lord, For I cry to You all day long." Psalm 119:164 states, "Seven times a day I praise You, Because of Your righteous judgments." This is echoed in many monastic traditions as they divide their prayer life up into 7 hours spread out throughout the day.
What are we supposed to pray for? Paul makes it rather clear for us: everything. Not just a wishlist of things we want, or about the struggles we're having. But we are to approach God and level with him.
Peter says we should "cast all our cares (our anxieties, our worries, everything we care about) upon Him, for he cares for us" (1 Pe 5:7). He's not a genie to grant wishes. Though, surprisingly, he has never left me desolate or without resolution throughout my life. Most of the time, though, he will answer my prayers in ways altogether different than I could have ever expected.
My favorite passage about prayer is Philippians 4:6, "Be anxious for nothing, but in everything by prayer and supplication, with thanksgiving, let your requests be made known to God; and the peace of God, which surpasses all understanding, will guard your hearts and minds through Christ Jesus." This verse has bolstered me when I have been at my lowest point in life. It has supported me, comforted me, renewed my faith in so many unbelievable ways. It is fundamentally and inextricably true that "the peace of God" does "surpass all understanding." I often dwell on the words and phrases in this passage and consider all of its ramifications.
Despite the oft claimed statement that we shouldn't pray for what we want, God actually has not only asked us to ask for things, but he has stated, "let your requests be made known to God." But recognize the other elements of this process. We are to be prayerful in everything (that means not relying on our own efforts for 99% and on God for the 1% we couldn't pull off). We are to be thankful (rather than haughty or arrogant or proudly or selfishly expectant). Paul tells us we are to actual "plead" our case before God, literally "to beg." This means, our prayer is to be wrought with sincerity as well as intensity. It is a wrestling with how things are and why we think they should be different.
For a long time, years in fact, my prayer habits have been lackluster at best. Maybe sometimes when I'm on my commute to or from work I'll spend some time talking to him. Maybe on the occasional moment when I'm walking in the woods or sitting down on the dock at the hermitage I'll pray. I would even pray that God would help me with my inability or unwillingness to pray more.
One certainty from the last few months that I've experienced in the new season he's moved me into, though, is I am now praying every day, multiple times a day, and with such sincerity and such fervent passion that I often do not want to stop (and even after I've said my "amens" and think I've brought every thing to him, I still find myself praying more).
Even if God never brings me a wife in the future, the greatest joy I've experienced thus far from this season of lack, of wanting, of longing, has been the response from within me, heeding the call drawing me ever closer to him. It's quite possible this was the whole point to begin with.
I have been a Christian for going on 30 years now, for the entirety of my adult life. I've come to recognize, to intuit from the past not only how to respond to God's voice, but when to just relinquish the strangle hold I typically have as I white-knuckle my way through life, on my heart, and just let God do what he would like to do. It might be frightening. It's usually uncomfortable. But, I know and trust what Paul states to be true, "And we know that all things work together for good to those who love God, to those who are the called according to His purpose" (Romans 8:28) and "Eye has not seen, nor ear heard, Nor have entered into the heart of man The things which God has prepared for those who love Him" (1 Co 2:9). I unequivocally am convinced of these things, to the severity that if they prove to be false I willingly choose to be ignorant of their falsity. If, somehow, someway, I die and discover that there is no God awaiting to greet me, that there is no God at all, I will still die knowing and believing in full faith that he has spent my life protecting me, comforting me, transforming me into a better man and a better creation. At my last breath, I will not be wondering if he exists, and if he does not, I will simply cease to exist and will never know the truth that my God was a lie.
But I do not believe this will be the case. I live and exist in the realm of certainty that defies logic, rational thought, and is boundless in its complexity and endurability. There was absolutely no reason for me to have responded as I did reading 2 Peter 2 for the first time at 17. If there is no God, I should have read that chapter and just moved on with my life as a Buddhist, unaffected, unchanged. But, I did not. God then, too, reached out and touched me that night, took the disbelief that resided within me and utterly, supernaturally, mystically, and profoundly altered my very existence.
My God has been good to me.
God's Promises to Us Concerning Our Prayers
James promises us that, "The effective, fervent prayer of a righteous man avails much" (James 5:16). How much of a righteous man? That remains to be seen, I suppose. Personally, I relate more to Paul's, "O wretched man that I am!" (Ro 7:24) than any claim I could muster for my own righteousness. Maybe James here is referring not to the righteousness we might see in ourselves, or gin up by our own efforts, but the pure and unequivocal righteousness of Christ. For it is only by faith that we escape sin and it is only by faith in Christ that we are made righteous before the Father.
Regardless, God has promised us many things in his Word concerning our prayers and petitions that we bring before him. As we've already seen, God promises to not only hear us, but he says he will protect us, our hearts, and our minds. Even during this season of struggle as I try to understand what God is doing with me, what he is really preparing me for, I recognize how fortunate I am for his emotional provision. Like Job he has hedged all around me (Job 1:10), truly he has "hedged me behind and before, And laid his hand upon me" (Psalm 139:5). This darkness could be so very much worse than it is. I could be truly suffering without a wife, without hope, lonely and longing for any kind of connection that could be had. I could be resorting to online dating and the compromises of fleshly relationships, desperate to just get an ounce of affection, of attention, try to fill that void that so many seem to have in their lives that drives them almost addictively to remain in terrible relationships because they would "rather be in a bad relationship than be alone." I don't have this kind of loneliness plaguing me. Still today, despite the shift that has occurred within me, despite the conviction that God is actually preparing me for marriage in the future, I do not and have not experienced anything remotely like loneliness. And for that, I am beyond grateful.
But, does God ever promise to answer our prayers in the Bible? People in the Bible ask for God to answer their prayers. Some people even claim that he did. Yet, interestingly, Daniel's three friends when presented the ultimatum by the king – drop and worship or be thrown into the furnace – even they were not certain God would answer their prayers to be spared. In fact, their response to the king was not, "Well, God will answer our prayers today (at least, I sure hope he does)." But, their response was, "our God whom we serve is able to deliver us from the burning fiery furnace, and He will deliver us from your hand, O king. But if not, let it be known to you, O king, that we do not serve your gods, nor will we worship the gold image which you have set up" (Daniel 3:17-18).
They didn't say God "would" do it. They said he was "able" to save them. The choice was his. They knew that. But their response was to serve God faithfully anyway, regardless of what God chose to do with them.
Over the last few months I've struggled through several different aspects of this stirring conviction that I think God has placed on me in that he is preparing me for a wife. I've struggled to get past the idea of pursuing a relationship with an interested woman who is a non-believer. I've wrestled with the concept of online dating and even dating itself.
One of the issues against marriage I've had has been the concept of having children. Early on, when I first started sensing something was different, I gave God all the reasons why marriage was not a good idea for me (or in general for anyone). I mentioned that the world seems poised on a precipice and was about to slide off into an abyss. That the world today was no place to be responsible for another soul, let alone bringing new life into it. Yet, I also argued that no woman in her right mind would, Christian or not, but especially Christian, agree to marry someone who was adamant against having children (which I really still am).
It was simply an impossibility.
Then, one day, while talking to him, one minute I could feel the conviction of all my arguments against children and the next, all my arguments and prohibitions against children were simply gone. It had all been lifted from me. Just like that.
And this is how God has seemingly worked throughout my life. In his great patience and long-suffering he gives me time to struggle and wrestle and fight against him, and then once he's done listening to me, once I've tired myself out, he simply reaches in and removes whatever it is I'm too stubborn or too weak to remove myself. I know now, despite all the arguments to the contrary (because, even now I sit here writing this and want to make the arguments against having children), if God brought me a wife and she later came to me and said we were pregnant, I know I would fall to my knees thanking God and would be overjoyed at the news. In fact, I now often think about what life would be like if and when we did have children, even multiple children.
What is happening to me?
I've found myself looking at my house with new eyes, moving walls in my mind, remodeling the attic space above the kitchen to make another bedroom, taking out the cathedral ceiling in the living room. There is really enough room in this tiny house to raise an entire family for the Lord, if he so chooses. All he had to do in answering my prayer was move me out of the way.
But When the Answer is Silence
Unfortunately, many Christians in this day and age struggle to find a spouse. They struggle through their single years as if they are cursed by God – somehow unworthy, unloved, unlovable because they pray and suffer against the silence returned by God as the minutes and days and months and even years tick on with no response at all – no spouse, love unrequited – as if they were being punished for some unknown or unseen sin in their life or unworthiness inherent in them.
Trust me, I understand.
But, what Christians often fail to recognize (and modern Churches and pastors and leaders fail to teach because their too busy telling people "oh God has make one unique individual just for you" or "marriage is God's perfect plan for every Christian's life") is that everything that occurs in your life is, as Dr. Missler has quipped, "is Father filtered." Nothing happens to the Christian that is not approved by God. Expressly so. Explicitly so. We see this in Matthew 10:29-31, "Are not two sparrows sold for a copper coin? And not one of them falls to the ground apart from your Father's will. But the very hairs of your head are all numbered. Do not fear therefore; you are of more value than many sparrows."
Everything – even being single, even the emotional turmoil you might be experiencing being single, longing to share your life with someone else, is actually intentional by God. He is not punishing you with singleness. He is actually blessing you. Singleness is not less than something. It is not the byproduct or consequence of some unconfessed or unrecognized sin. It is where God has determined you need to be at this given time, at this given place in your life, and for a given reason. He might not determine that the reason is need to know information for you. In fact, he might withhold his justification from you to see if you will obey him, submit to his perfect will, even though you do not have all the information.
How much do you truly love God? This is the real question you need to ask yourself. If you profess to be a Christian, if you truly have a saving faith, if you have professed Jesus before other people and genuinely believe in your heart that God raised Jesus from the dead, how much then are you willing to trust him with your life? With all of your life? With every day?
You may be suffering under the weight of your longings, under the burden of your desires. Paul did say it is better to marry than to burn with passion, but he also said, "I wish that all men were even as I myself" (1 Co 7:7). Marriage is often romanticized in our modern culture. It is often trivialized by the proliferation of divorce and adultery and all manner of impropriety in the swirling vortex that is a godawful world.
And it's not just unanswered prayers for marriage. It is also unanswered prayers for work. Maybe you want to uproot yourself and move somewhere new. But God doesn't agree, and no matter how long you spend reading the online job postings, no job somewhere else materializes. Or you apply and apply for job after job but nothing comes of any of it. I did this for a very long time, desperate to get out from under a boring job, only to finally recognize that God really didn't want me to take for granted the provision he had given me at this time and in this season. I have a great job. I have a job that demands very little from me, provides double my needs, allows me to continually put more and more back in reserve so if and when the time does come that God says, "Go. Go to a land that I will show you" I will be well prepared and have a cushion and can act on faith and with expediency and without fear.
I have found over the course of my life, when God is ready for me to move, he quickens my spirit to do so. There is often expediency and no second guessing. There is no debating the merits. In fact, there have been times when he has encouraged me to quit perfectly good jobs and step into the void and unknown. Yet, every time the end result has always been better than the former that I left behind. I have never gone hungry. I've never gone without a roof over my head. And I often wonder why in the world he would choose to protect me like this when countless others have neither. All I can determine is it is by his mercy and it is a mystery in the end as "he has mercy on whom he wills, and whom he wills he hardens" (Ro 9:18). I am always reminded, "that he makes his sun rise on the evil and the good, and sends rain on the just and on the unjust" (Matt 5:45).
God often will gently ask you to trust him, despite what you see (He 11:1). He may give you everything you desire just to then ask you to give it all up to reveal your true heart's intension that resides in the well of your soul (i.e. divorce, death of a spouse, loss of a job). How much do you love Him? Is it enough that you will give up that which you long for? It might require a season of deep sadness or heart wrenching despair. It might trigger emotional loss and genuine mourning over that which you cannot have or cannot maintain. But, consider, if you truly believe that God sacrificed his own son for you, that Jesus willingly laid down his life that you might pick yours up and live out the eternal destiny you were made to live, how much has Christ given in comparison?
Even in the great silences in answer to our prayers, God works miracles. They are the miracles no one really talks about. The miracles of changing the heart of broken and stubborn people. The miracles of bringing ardent and insolent men to faith in accepting their call to be better husbands and fathers. The miracles of making the impossible possible.
Even in the silence there is an answer.
But Elation So Profound
I can't speak for anyone other than myself when I say I've lived most of my adult life as a Christian who has experienced most of that with only brief periods of genuine prayer. I call them seasons. Periods of change. But when I have prayed, God has always been there to answer. Looking back, I can trace what at least appears to me to be God's hand moving throughout my life. As I transitioned between jobs. As I struggled through a broken and imploding marriage. As I faced my own in inadequacies. He certainly has not answered my prayers in the way I would have liked. In fact, all the times the outcomes have always turned out for my benefit, even when in the muck of it it appeared as if he were dropping the ball.
But, lately, as a new shift has occurred in my life and within my own soul, I can attest to the realities of a fervent and tortured prayer life. One that is full of tears and the resurfacing of old regrets, and the tearing down of emotional walls that I erected in the past to protect myself from pain and hurt caused by the people around me – even that which was caused by no fault but my own. It's in these dark places, in these sensitive times, when the wounds are again laid bare by I can only assume the Holy Spirit, that we stand naked before our Creator and he can speak to us in such ways that defy all understanding or logic or reason. Genuine, authentic prayer that resides in the ever shortening distance between creator and his creation, is like a fire ignited that burns bright against the darkness of the world. It is where insanity is spoken of in hushed ones, "Oh, he's one of those Christians," where the "God has chosen the foolish things of the world to put to shame the wise" (1 Co 1:27).
Today, I can think of no greater use of my time than to sit quietly by myself talking with my Lord and King. I do it while driving in my car. I do so when out for a walk in the woods. When I lay down at night just before I fall asleep. So often I am overwhelmed by emotions I cannot begin to describe the gentle nudges, as the Holy Spirit works to mend, to bind, to heal, to encourage, to instill that which the Father desires of me.
I may be a foolish man, having tossed away all opportunity and success and influence. But these are things the lost world chases after and that which God has given, the lost cannot comprehend (1 Co 2:14).
Conclusion
Prayer is one of the few mechanisms by which we are given audience with the maker of the Universe. And with the aid of the Holy Spirit within us, even words hold no limit over that which we can communicate to our God and King. Not only does he heed us whenever we call upon him, but he encourages us to do so whenever we so desire. He is excited when we do. As Paul stated, "we have boldness and access with confidence through faith in Him" (Eph 3:11).
If you were like I was and have no habit of genuine, closeted prayer, then spend time each day praying that God will give it to you. And if you do, know that you are of the lucky few who can transverse between the material plane and the supernatural, and can stand in the presence of your creator and speak your mind, knowing that he knows everything you are going to say before you even say it – and yet, he loves you all the more anyway.
Until my next post….
---
Please consider supporting my writing, my unschooled studies, and my hermitic lifestyle by purchasing one or more of my books. I'm not supported by academia or have a lucrative corporate job – I'm just a mystical modern-day hermit trying to live out the life I believe God has called me to. So, any support you choose to provide is GREATLY appreciated.
---
Excerpt from Sacred the Circle:
---

There was a knock at the door.
Campbell got up from the chair and crossed the small distance so he could open it.
A young man stood in the doorway, probably in his early twenties.
Campbell could tell he looked a little disheveled.
Confused.
He had deep rings around his eyes, as if he hadn't been sleeping much, and he kept checking the hallway in both directions, as if half expecting someone to be stalking him.
"Hey," Campbell said.
"Uhm….is…this….?"
The kid was stumbling over his own words.
Campbell leaned out into the hallway, checking to make sure there was no one else listening.
This guy wasn't the only one who was becoming paranoid.
There were two students hanging out at the foyer, near the stairs, but the rest of the floor was clear.
"I'm sorry," the kid said. "Must be the wrong place. I'm mistaken."
He started to leave.
"Wait," Campbell said, putting a hand out. "Hold on a second."
The kid paused.
"What's your name?"
"Uh, I'm….Lloyd…"
He fidgeted with his collar.
"I know it sounds crazy, but – "
"You're not crazy, Lloyd," Campbell said, grinning.
"Did you – ? "
The kid paused, as if unsure if he should continue.
He looked back toward the stairs, then at Campbell.
"Did you know I was coming?" he finally asked. "I mean, that's not possible, but, were you expecting me?"
Campbell chuckled to himself.
"What's so funny?" Lloyd asked.
"Well – "
Campbell pushed the door open all the way so Lloyd could see inside his dorm room.
The entire room was full of them, students, non-students, ranging from what looked like eighteen to even a few middle-aged men, scattered about the room, sitting wherever they could find a comfortable spot.
Lloyd's mouth dropped open.
"I wasn't really expecting them, either," Campbell said. "So, I hope you don't hold it against me when I tell you, I had no idea you'd be showing up here. Do you care to join us, anyway?"
---
Buy my book Sacred the Circle to find out what these men are hearing from the supernatural realm. Will they answer the questions tugging at them? What are the visions saying? Who are the Multitude? Why are all these men being brought together? By whom? And why, above all else, are they being convicted….to pray?
Get your copy of Sacred the Circle today! Get the upcoming sequel, Sacred the Sent as well so the story never ends !
But, trust me when I say, you'll be white knuckling this one with every turn of the page!
---